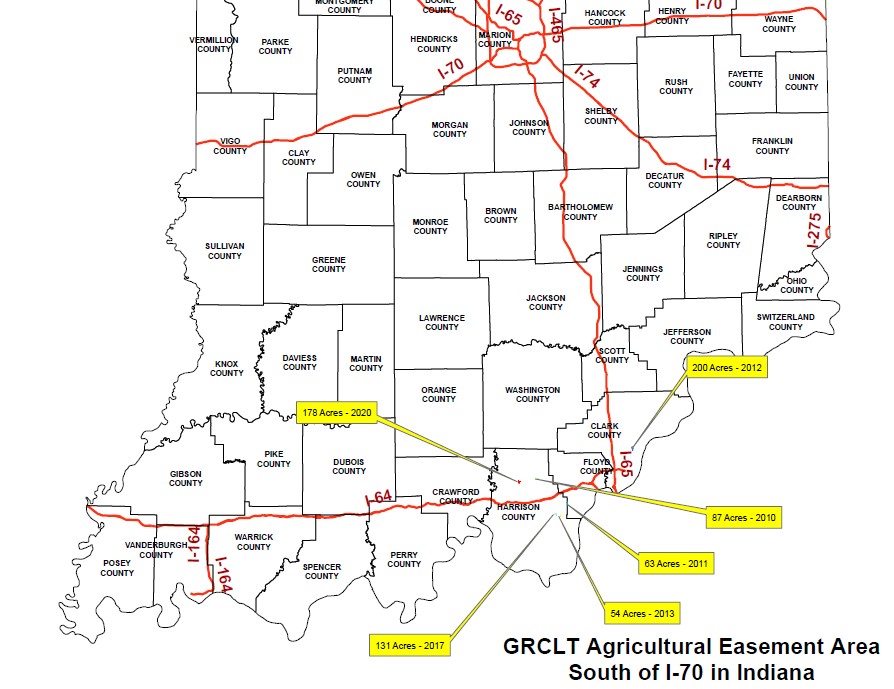 713 acres protected
Six farms protected forever
First USDA-NRCS Ag Land easement in Indiana completed in 2020
Easements – We currently have six easements under our stewardship, and four farms under consideration.
How We Help our Partners and Community
Young Farmers
Allowing your farm to be under an easement creates an affordable option for young farmers trying to break into the field, or for your own family by easing tax burdens. This succession plan creates peace of mind for farmers who would like their properties to remain thriving farms with sustainable conservation practices for generations to come.
Environmental Protection
Disallowing incompatible land uses such as misplaced housing, subdivisions, warehouses, feedlots, solar panel fields and other development activities in our countryside allows everyone, city-folk and country-dwellers alike, to enjoy the beautiful scenery that our rural lands provide while still encouraging sustainable agricultural productivity.
Economic Vitality
Allowing your farm to be under an easement creates more latitude for your business by allowing tax burdens to ease. Also, thriving farmland creates secondary economic impacts by increasing demand for goods in rural towns, by sustaining local agribusiness and by promoting local agrotourism.
Provide Food Security
In August 2022, the American Farmland Association estimates that 2,000 acres of American farmland is lost each day. Consequently, the nation's food security is at risk if this magnitude of lost farmland continues without efforts such as those by GRCLT to check the diminishing sustainable farmland in the country. Farms may pass from generation to generation, or they may be sold with existing easements to new young farmers, but, as the American Farmland Association's slogan says, "No Farms, No Food."
Reduce Sprawl
Allowing the lines to blur between countryside and urban areas creates unsustainable and wasteful land uses. We want to protect those very vulnerable farms on the periphery of our local cities to stop furthering congestion, pollution, and degradation of our countryside in and around Southern Indiana.